The following story was featured in the Fall 2021 Providence Magazine. CLICK HERE to read the full magazine.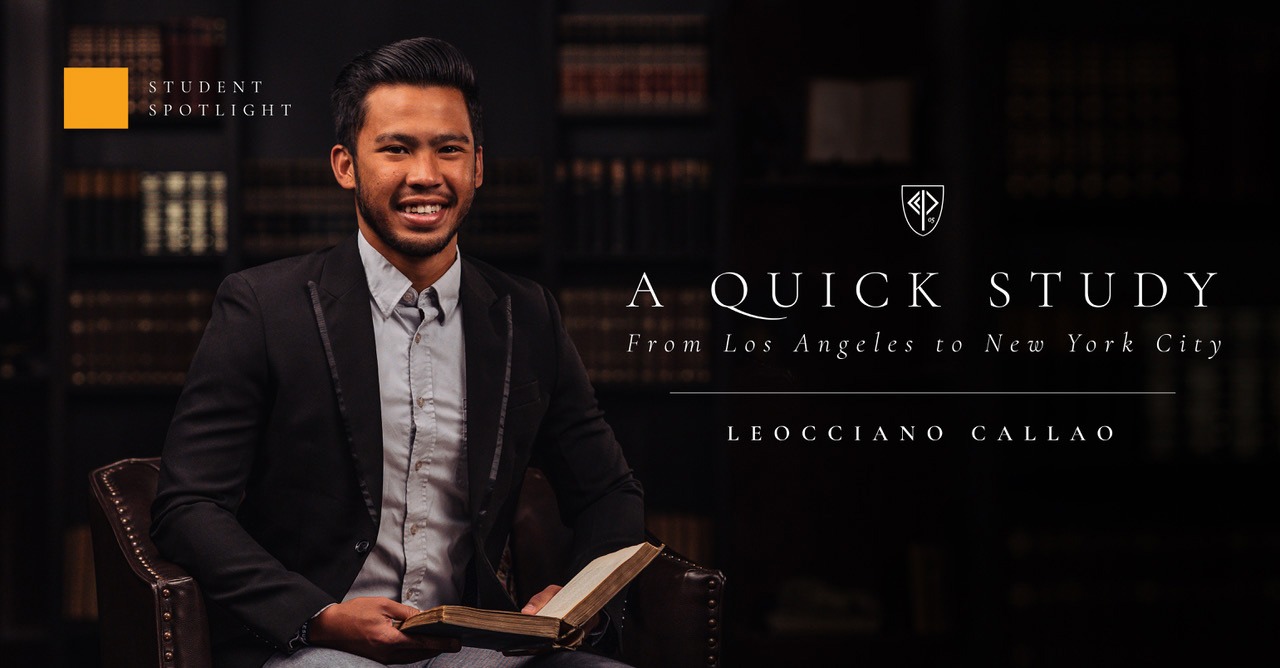 Leocciano Callao, from Malaybalay City, Philippines, will be graduating from Providence Christian College in December 2021. After graduation, he hopes to join the workforce working as a sports journalist in New York City. That seems like a world away from Los Angeles and Providence, but he is currently in a partnership program with The King's College where he has seamlessly integrated his final semester at Providence while studying and interning in New York.
Callao chose to attend Providence primarily because of its location: a central hub of media, culture and arts in the city of Los Angeles. "Providence was the perfect place to call home," said Callao. "Students have such a great sense of community and togetherness. Being such a small school, it gave me plenty of opportunities to get to know people from different backgrounds and serve those around me."
Callao also had the opportunity to be part of the Men's Soccer program while at Providence, and had a lot of pride for his time representing the Sea Beggars on the field. His senior year, he recalls the team scraping out a 3-2 win against the heavily favored University of Antelope Valley in Lancaster, CA, which was one of his fondest memories, along with time with his teammates and the camaraderie they shared.
Now in his final semester and on the other side of the United States, Callao shared a little insight into his current experience in New York and what a typical day might look like:
"Life in New York City is a movie— you just don't know what genre each day is going to be. I wake up every morning wondering what I will see as I go about my day. I live in an apartment in Downtown Brooklyn with three other students. Being the eldest in the room, they call me pops and I refer to them as my sons. Every day, I take the train to Manhattan whether it's for my barista job in Midtown, right by Madison square garden, or for classes which are in the financial district. I am currently interning for Brooklyn Paper. While my internship is currently remote, I spend two to three days a week going to events, conducting interviews and writing stories for them — normally I find a coffee shop to work and get the creative juices flowing. As part of his internship, Callao also gets to attend Brooklyn Nets basketball games as a reporter, and was able to attend the world premier for the Netflix film Night Teeth. The King's College has a business casual dress code, so when I attend classes, I walk through Wall Street dressed to impress. It gives me a great sense of what it's like to be in a professional business setting and an opportunity to get creative with outfits. I also go out and explore new spots as much as I can while shying away from tourists — you never run out of things to do in New York!"
While Callao decided to go for a semester in New York for his career and growth as a person, he does miss his friends and community at Providence. His roommates Caleb and Leland, fellow Resident Assistants Esteban and Carl, and lots of others who are life-long friends. And of course, Callao misses the LA weather, the sunny beach, and other hobbies he has, like playing and writing music, cooking, and working out.
"There are so many things to be excited about for my future. I cannot wait to do the things I have been praying for since I was young — not just to report games but to tell stories around the world of sports. I hope that my story inspires others and that I end up in a position where I can not only pursue my passions, but also help and give back to my family and community."