Dr. David E. Alexander
In July 2021, Dr. David E. Alexander was appointed to the role of Dean of Academics at Providence Christian College. The following is an excerpt from the transcript of his address.
Dear Providence Community,
This past year I spoke to a large number of potential students as they were considering enrollment at Providence Christian College for the Fall 2021 semester.
Since I too had considered Providence for my future not long before them, I shared with them the reasons I decided to leave a tenured professorship at a well-established and much larger institution for a non-tenured professorship at a young, much smaller college.
Over the years, I have become disillusioned with the direction of many colleges across the nation. In recent days, countless universities have not only neglected their faith in God and scripture, but have also abandoned their liberal arts focus.
I believe that the liberal arts, when grounded and structured by a biblical worldview, are the best foundation for pre-professional and related studies. Indeed, without such a liberal-arts focus, saturating pre-professional and related disciplines with a biblical worldview becomes either practically impossible or at the very least, highly unlikely.
By moving away from a Christian liberal arts focus, many colleges now offer a "Christian" education that is hardly distinguishable from a secular one.
Providence Christian College is not alone in saying that it is committed to educating students to be firmly grounded in biblical truth, thoroughly educated in the liberal arts, and fully engaged in the church and the wider communities to which they belong.
However, as I examined Providence in more detail, I was struck by something that seems to separate this place from just about every other Christian college. Providence truly believes in, and follows through with their mission.
As colleges all over the country "zig" towards either perverting the liberal arts in various ways or dramatically cutting them, Providence is "zagging." I love the boldness of this place. I love that Providence is attempting to be what I think a genuine liberal arts college must be—built upon and shaped by God's holy word.
As we become the premier Christian liberal arts college in California, we will continue to saturate every academic class and extracurricular activity in the biblical worldview. I do not know of another college that is seriously attempting to do that. But as the world and culture around us continues to fragment and decay, Providence continues to stand out by refusing to allow empty, worldly philosophies and godless divisions to crop up amongst us or in us.
The vision of this place is worth working for, and in that light my prayer is that Providence will continue to prayerfully, diligently, and faithfully fulfill its calling as a reformed Christian institution.
In Christ,
Dr. David E. Alexander
Dean of Academics & Professor of Philosophy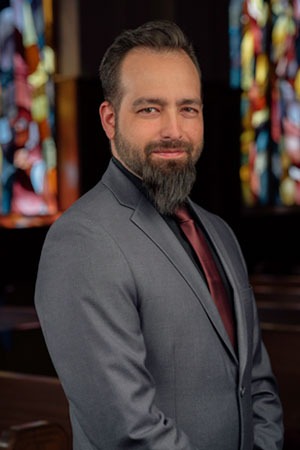 DR. DAVID E. ALEXANDER
Dr. David E. Alexander is an Associate Professor of Philosophy at Providence Christian College. In 2008, he received the Ph.D. in philosophy from Baylor University after receiving his M.A. in philosophy from Baylor University and his B.A. in philosophy from Arizona State University. He has been a Visiting Professor of Philosophy at both Madras Christian College in Chennai, Tamil Nadu, India and Liaocheng University in Liaocheng, Shandong Province, China. He has published articles in philosophy of religion, metaphysics, and the history of philosophy. To date, he has published two books Goodness, God, and Evil and Calvinism and the Problem of Evil (with Daniel Johnson). Prior to coming to PCC, Dr. Alexander held faculty positions at Huntington University in Indiana and Calvin College in Michigan. He and his wife regularly take students to India where they learn about Indian culture and history.